Well last week Liz, author of a belle, a bean & a chicago dog, was in the Hot Seat and I have to say that you guys did not disappoint. The questions were creative in a way that only a whole bunch of bloggers could be. And Liz? Well just wait until you read her answers and see her, um, photographs…
If you could be a ninja or a pirate, which would you be and why. Also, please dress up as your choice and take a picture that I can later use for evil. (@taminginsanity)
Sweet, simple KLZ…the wording of your question implies that I'm neither a Ninja nor a Pirate.  Nor both.
I'll turn the tables on you and ask you a boob question, since we share a smallness of everything booby.  If you could wake up tomorrow with a bigger set of boobs, what would be the first thing you'd do to show them off? (@oldtweener)
Please reference the racks on Ninja Liz and Pirate Liz above.  This is as close to cleavage as I'll ever get.
If you could live in any era in history, which one would it be? (@gfunkified)
I'm thinking poodle skirts, pony tails and malt shops would be a fun way to live.
Tell the truth, what kind of scandals did Flat Kate get you and KLZ in at Blissdom? I heard there were nuns and fireworks involved. And will there be a real or paper Liz going to BlogHer11 for me to meet? (@ksluiter)
Again, reference the boobage (and bod) at Q.1.  All that was hidden under the nun costume.
As for BlogHer, I will not be attending (my 10th wedding anniversary is August 4th), though if anyone is interesting in bringing a 12 inch tall paper version of me, please let me know!
All of this blog knowledge that pours out of you, did you learn it out of passion? Or necessity? Maybe both? (@multitaskmumma)
I guess I'd say passion.  If I'm going to put *this* much time into something, I want to figure out how to do it pretty well.  Not perfect, just "pretty well."  There's really nothing I'm a perfectionist about.
Liz, if you could go choose one day in your life to go back and relive, which day would you choose? (@mrsjenbardall)
I want so bad to come up with a clever answer to this instead of saying my wedding day or one of the births of my kids.  Last year I wrote a post for Julie of Dutch Being Me about the moment I knew Craig wanted to marry me, and that moment would be great to relive.  Another "life changer" would be when I walked into our apartment in Palatine, IL, in May of 2003 and Craig met me at the door saying that he got the outside sales job, we were moving to Memphis, and that he was leaving to fly to training in Alabama in 30 minutes, so if I wanted to hear about this, I needed to follow him into the bedroom so he could pack.
Um, yep.
Talk about whirlwind.
Liz, which reality TV star would want to be and why? (@jessicatorres4)
The reality star question cracks me up as I have an insane amount of connections to reality TV stars.  For real.  No, I'm not from California, but apparently the Chicago burbs are a hot bed for reality stars.
I don't know *who* I would want to be, but I think being a contestant on The Amazing Race would be my ideal reality gig.
Ok, Liz, be honest.  Whose eyebrows are better, yours or Craig's? (@marthapoints)
Craig's are naturally better.  He has a great natural arch, and he doesn't need to pluck in between his brows at all.  He was born uber-glamorous, what can I say?
What song(s) on your ipod are you embarrassed to admit you enjoy and occasionally dance to in private?  (@mypixieblog)
I'm pretty boring when it comes to music.  The "Top 40″ hits are about all I listen to, so the songs you hear played on the radio 872 times a day – Adele, Cee Lo, Sugarland, Lady Gaga – those are what I listen to over and over and over again.
How does it feel to be the Queen o' Twitter? (@latorres)
Smooches to you for saying that, Leigh Ann, but I don't know that title is quite fitting.  Princess o' or even Duchess o' perhaps?  That title I'd proudly own. Plus, I think having a name with an apostrophe would be cool.
Seriously, though, I think there is such incredible potential with Twitter.  In fact, I would argue that 3 great Tweeps are "worth" more to a blogger than 30 blog followers.
I'd like Liz to share what she loves most about being a mother and what has been her biggest challenge. (@juliecgardner)
I really love teaching the girls about the world and sharing in experiences with them.  Seeing them get excited to learn, explore, touch, and climb is so awesome.  With that being said, waiting for them to get old enough to show them the world has been challenging.
If you were to hold some sort of Guinness World Record, what would it be for? (@naynadub)
Creator of the World's Greatest Homemade Salsa.  Boom.
What has been your toughest day ever as a blogger? What made it tough? What advice do you have for other bloggers on their tough times? Also? Favorite wine? (@reallifewkids)
It would be wildly unpopular for me to say there isn't one (or more) specific day(s) that has been tough.  I'm a big believer in the philosophy that blogging, like everything in life, has it's natural ebb and flow.  You can have a stretch where it seems like things are going well, you are awarded campaigns and other opportunities, but then have a period where it seems like nothing is working out.  I don't want blogging to be a stressful thing, so I don't put specific expectations on it and I think that helps.
As for wine?  Love me some Fat Bastard.  I love a nice glass of Menage a Trios once in a while, too.
If you could cowrite just ONE post with any other blogger out there who would it be and what would you write about? (@allfookeduptoo)
This question was probably the hardest one to answer.  Maybe because I'm a parenting and lifestyle blogger, so it would be hard to co-write a post?  Fiction is not my thang, and I feel like collaborating on a storyline would be the most logical way to co-write.  Plus, I'm not funny enough to hang with the likes of BooyahsMomma, Yuliya nor KLZ.
I guess I'm destined to be a non-fiction, un-funny loner.
Liz, definitely need to know if you have been practicing dance moves via Skype with the notorious @TamingInsanity for the next bloggy get together? (@bywordsmusings)
I have to say – it tickles me to see how many times KLZ was referenced in these questions.  Not many people know this, but KLZ and I grew up one town apart.  We did not know each other before blogging, though.  I like to think it's the South Side of Chicago vibe we share.  It's pretty freaky how in tune we are with one another.
If they made a movie of your life, what would it be about and which actor would you want to play you? (@letters4lucas)
Without a doubt, Sandra Bullock – an equally-boobless, girl-next-door brunette – would play the lead.  As for the story?  I don't know…I don't know if a girl who marries a tiny man who is more girly than she, would do so well at the box office.
How do you have the energy to read other blogs, tweet on twitter, raise your kids, post to your blog, and shake your groove thing with Taming Insanity at various blog conferences? (@sogeshirts)
The dancing comes natural.  Or maybe it's the "not worrying about what other people think" thing that comes natural.  Whatever it is, I'm OK to just shake it.
Managing to do it all can only be chalked up to my mad multi-tasking skillz.  I'm a project manager at heart – what can I say?
———————————-
So in answering all of these questions Liz has shown, one more time, why she is so good at this blogging/twitter/social media/everything-else-in-the-whole-world business. Who else would put on that ninja suit? Although if I had her abs I might consider it too.
Many thanks to Liz for sitting in a fiery Hot Seat. To return the ninja/pirate favor, Liz has decided to put KLZ, the hilarious, talented, sweet author of Taming Insanity, in the Hot Seat.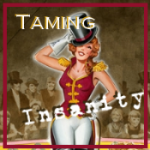 Make sure you are following KLZ on twitter (@TamingInsanity) and that you take a minute to visit Liz and KLZ's great new venture Eli Rose.
Let the questioning begin… KLZ's answers will be up next Monday.
Comments
comments
Powered by Facebook Comments